This is the official information website and monthly newsletter site for the Greater Whittier Area Branch of AAUW. Our members live and work in Hacienda Heights, La Habra, La Habra Heights, La Mirada, Montebello, Norwalk, Pico Rivera, Santa Fe Springs, South El Monte, Whittier or other surrounding communities.  AAUW was founded in 1881, is open to all graduates who hold an associate, baccalaureate or higher degree from a regionally accredited college or university. Membership in the Whittier Branch includes affiliation with our state and national organizations. You are invited to attend any of our meetings as a guest. Our members are more than happy to answer any questions you may have about the Branch and how you can join. Please go to our "Contact Us" page to find out further information and the "Meetings" and/or "Calendar of Events" page for the time and location of our next meeting or event. We invite you to join our Greater Whittier Area Branch. AAUW values and seeks a diverse membership. There shall be no barriers to full participation in this organization on the basis of gender, race, creed, age, sexual orientation, national origin, or disability.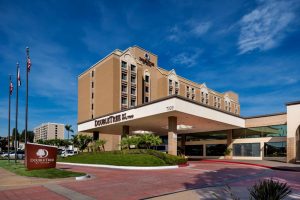 Our Branch Meetings are being held on Zoom through the remainder of 2020.  Hopefully, we will return to luncheon meetings at the hotel some time in 2021.  Watch this space for more information.
The Mission Statement of AAUW
The purpose of AAUW is to advance equity for women and girls through research, education and advocacy.